Giving back to a Charity
Lifeworks regularly contribute to different charities - Our Charity involvement.
Charity giving is vital, we live in a great country here in Australia, the more I have travelled, the more my eyes are opened to just how fortunate we are.
There are so many Charities that need help globally, funds for research, funds for training, funds for humanitarian efforts….all are equally important.
We  hope to do our bit and Lifeworks regularly contributes to a variety of charities every year.
Cure Brain Cancer Foundation, is an organisation close to Julie, owner of Lifeworks Photography's heart.
The personal experience of losing a family member has inspired her to raise as much awareness for this illness as she possibly can. Sadly Stephanie Ewing lost her battle on April 26th 2014, one week past her 22nd Birthday. Steph was a very caring and beautiful person, she made a special request that people didn't send flowers but donate to Cure Brain Cancer Foundation in memory of her, as a result a further $25,000+ has been donated.  We hold out hope that your support of this project will provide the incredible people in this organisation with the much needed funds to assist them to find a cure soon for this terrible disease before it takes more of our precious children and young people.
As Carrie Bickmore so courageously brought to our attention when she won her Gold Logie in 2015, this horrible disease kills more of our young people than any other illness yet research is greatly under-funded.
In memory of Stephanie and in keeping with her wishes and with her family's blessing, we would like to continue to raise awareness and funding to cure this horrible disease. 
Lifeworks Photography is has been working with previous Lifework clients, and created a stunning photographing our book "Watch Me Grow, I've Grown Taller" Book Project .
We are happy to have raised $10,000 for the Cure Brain Cancer Foundation!
Rhodanthe Lipsett Indigenous Midwifery Trust, is a not-for-profit charity. The Rhodanthe Lipsett's dream is for all Aboriginal and Torres Strait Islander women to have improved pregnancy and birth outcomes by having the benefit of care from Aboriginal and/or Torres Strait Islander midwives. By establishing Rhodanthe Lipsett Indigenous Midwifery Trust ("The Trust") aim to make a contribution to both 'a better start in life' and 'Closing the Gap' for all Aboriginal and Torres Strait Islander mothers and babies. The role of the Trust is to provide financial assistance in the form of small grants and scholarships to Aboriginal and Torres Strait Islander midwifery students, to assist them in their study to become midwives.
Lifeworks Photography raised $700 by donating their time and session fees in support of this wonderful charity. 
Assistance Dogs Australia is a small national charity that provides freedom and independence to children and adults living with disabilities. They train Labrador and Golden Retriever puppies through a two-year internationally accredited program, teaching them up to 50 specialised commands to provide support and increased mobility for their owner. These incredible dogs aptly learn how to provide specialised support for a wide range of disabilities – from loading a washing machine, opening and closing doors, pressing the pedestrian button at lights – to improving communication, empathy and motor skills of a child diagnosed with autism. The physical and emotional support our trained dogs provide lasts their 8-10 year working life.
Assistance Dogs make a dramatic difference for their owners in other ways too; their wagging tail and unconditional love relieving social isolation and increasing their owners' long term independence to give them a better quality of life. To date Assistance Dogs Australia have placed over 190 Assistance Dogs, free of charge, across Australia.
Supported by our 3rd "PAWtrait's Pet Book Project"  Assistance Dogs Australia will continue it's very im-paw-tant work and continue to transform the lives of people with disability.
$4,000 was donated to Assistance Dogs Australia at our book launch on 31st July 2016 attended by the CEO of ADA.
New beginnings, animal rescue, is a not-for-profit charity whose purpose is to save, rehabilitate and re-home as many unwanted animals from pounds, shelters and breeding establishments as possible. Many of these require veterinary assistance and training before being given their second chance to loving new homes. We were thrilled to donate $4,000 to them on completion of our 1st book "Best Friends, Pets and their People" in April 2015.
Our continued support with Book 2, 2015-16 will enable New beginnings Animal rescue to provide these animals with much love and care. A donation of $4,000 was received by NBAR on the 31st July 2016.
Guide Dog's Victoria is a wonderful local charity we have supported for many years. As Photographers we rely very much on our sight and we were thrilled to donate $4,000 to them on the completion of  our Book project "Best Friends, Pets and their People" in April 2015.  
The Appin Hall foundation:  Founded by the effervescent and extremely kind Ronnie Burns OA and his wife Maggie. Appin Hall provides much needed respite for ill or disadvantaged kids and their families. Julie photographed a delightful book in 2013 for Ronnie with a remarkable clown, called "Koko the Clown and the lost smiles". Written by Sylvia Berger, this book has returned the smiles to many a child's face and helped raised much need funds.
Then in February 2015 we photographed the 2nd Book of Koko's adventures on board the Spirit of Tasmania, this Children's Book was released in June 2015.  All proceeds from the sale of this book help Appin Hall provide care for kids and families in respite.
Deaf Kids, Rotary, Lions club and Lord Mayors foundations which send sick, disabled or disadvantaged kids to events or provide care.
B1G1 (Buy1GIVE1) was founded in 2007 when a group of business owners realised it was too difficult to give back effectively while running their own businesses. B1G1 helps us make a difference to someone that needs our help, the foundation helps create a lasting giving HABIT by making it easy to embed giving into our business.  They are always looking for others to become involved as well (click here to find out more).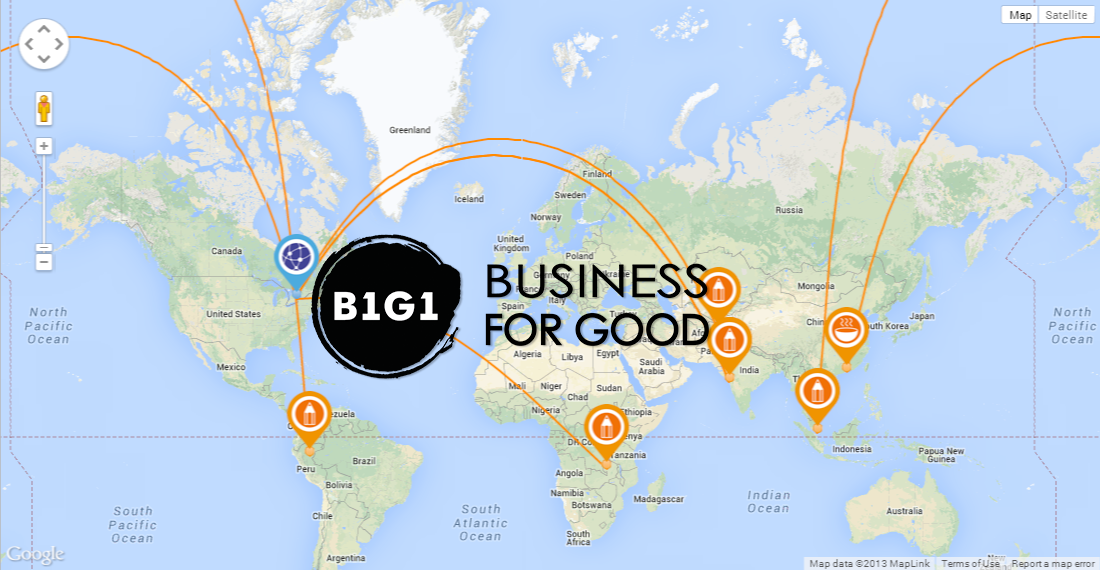 B1G1  believes that if giving was made simple, easy and truly impactful, every business would want to give and make a difference. We agree with them and love being a part of this worthy cause.   B1G1 has enabled us to create a lasting giving HABIT. Imagine if every time you had a meal, a hungry child received a meal… or imagine if every time you had a cup of coffee, someone received access to life-saving water… or imagine if every time you bought a book, a tree got planted… Click the top logo to see just how much different Business for Good is doing around the world.  B1G1.
Since 1998 Lifeworks has proudly supported children and their families. Our sponsored children are currently, Emmanuel, who is 10 years of age, and loves to play football and Ramadhani, who is 11 yrs old and loves to draw and learn cooking.
We donate regularly to the Red Cross Association. Red Cross specialises in helping families in crisis. Peter, Julie's husband was caught in cyclone Tracy many years ago and saw first hand the incredible help Red Cross provided to families who had lost everything.  Julie's Grandmother volunteered for the Red Cross for 85 years, an extraordinary effort.